This feels like 2010 to me. No one knows if we're out of the woods, if economic signs are going to be pointing up, but the bad news with inflation and interest rates has been out for over a year. We just had bank failures and we might have more, and many are predicting a recession in H2 2023 or H1 2024.
Another bank failure will not be welcome news and could set off alarm bells in world markets and a stock market retraction, but the Fed is resolved to contain it. They'll pump liquidity into failing banks and force mergers but they won't let the problem get out of hand.
An expected recession will likely be a non-news event. We'll just hear about it after the fact.
And along the way interest rates will stabilize and buyer demand will return.
Just like in 2010, when I purchased my first multifamily property. I was eager to invest in real estate prior to the 2008 recession. Fortunately not blindly eager enough to pull the trigger before the bottom fell out. I held out. No one knew in 2010 that the worst was behind us, but it had been down for awhile, markets had stabilized, and banks were lending. Banks had also taken a lot of properties back as REO and foreclosures, many more than they have today, so deals were all around.
There's a good chance I'm wrong, but if so, what more will happen? Higher interest rates, higher unemployment? You don't have to call the bottom because you're going to hold for a long time, several years. You just need to be certain that you're close to it, because when it is clear to everyone that the bottom is behind us, buyer demand will surge and your window of opportunity will close.
Podcast Alert!
Two recent podcasts just went live!

I had the good fortune to join Jason Wright on the Real Estate Investor Marketing Stories podcast. Jason was born without an "off switch", he's driving results 24/7, focusing his business on ActiveCampaign, sales funnels and all things marketing automation.
Check it out! Click here to listen.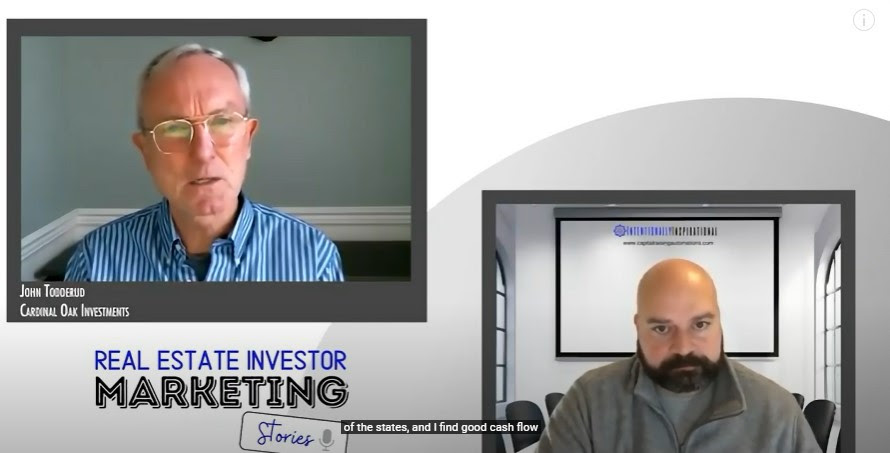 I also joined had the good fortune to join Taylor Loht on the Passive Wealth Strategy podcast. Taylor helps people escape the Wall Street Casino and learn to invest in real estate without the headaches. He's been directly involved in the acquisition and management of over $150M in real estate.
Check it out! Click here to listen.